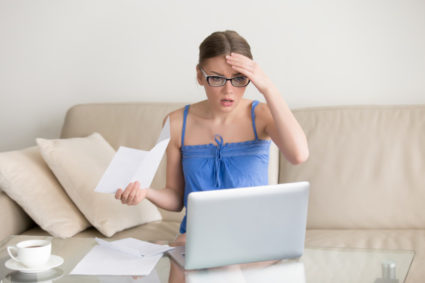 Debt mistakes from affecting your finances
Debt mistakes from affecting your finances, getting in debt when you're young is easier than you might think – and more common too.
From the lure of store cards and 'buy now, pay later' offers to shiny new credit cards, it's easy to fall into trouble with debt. But once you're a little older and less naïve, having that debt hanging over you is the last thing you want, especially when it's affecting your credit rating and you're only just paying off the interest each month.
But debt doesn't have to be a lifetime problem – with a little planning and a smarter head on your shoulders, leaving that debt in the dust is easier than you might think. Here are just a few tips to get you started:
Sit down and make yourself a budget
The first step to having less debt is knowing exactly where your money is. Making yourself a clear and easy-to-follow budget can help you understand where all your extra cash is going. In some cases, you may find that it's all going towards paying off those debts. But in others, it might be those coffees, that online shopping or that expensive takeaway bill that's leaving you skint each month.
Consider trying out the snowball method
The snowball method is considered one of the best ways of paying off debts if you have a wide range of different amounts and interest rates that you owe. In this method, you tackle the highest-interest debt first – throwing everything at that balance while paying the minimum on everything else. If you do have wiggle room, this may be a great option – but not everyone has the luxury of having extra to get that balance down quickly.
Apply for a debt consolidation loan
Debt consolidation is an excellent option to reduce your debt over time and put a definite, bold end date on all that cash you're paying out each month. Debt consolidation loans can provide an excellent way not to let the past affect your future. You're paying a steady sum every month, with no nasty surprises or sudden interest increases. Even if you have bad credit, a debt consolidation loan can get you on that positive track – and forget about all that cash you spent when you were too young to know better.
Are you interested in debt consolidation loans in the UK? We're the specialists. Get in touch today to find out how we can get those debts combined into one manageable payment sooner rather than later.
If you're a homeowner and business owner, get in touch with the experts at Debt Consolidation Loans today for more information about how a debt consolidation loan can benefit you.
If you think a Debt Consolidation Loan is right for you, get in touch or call on 0333 577 5626 to improve your financial situation with one easy monthly repayment.
Our team is on hand to help with number of questions you may have.
If you are struggling with debt, please visit Money Advice Service for help and advice.
We are a broker, not a lender.