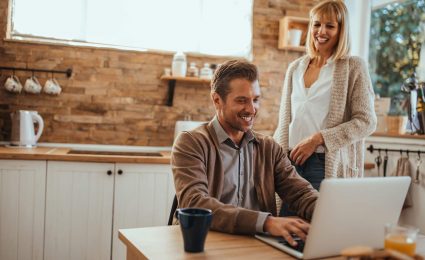 How to Get Out of Debt
Taking out a debt consolidation loan can make managing multiple debts easier. But to reduce the total amount of interest you end up paying back, these five things will help you pay off your debt faster. Let's take a look:
1. Record your total outgoings
Tracking your weekly and monthly spending is a good way to identify things that you could spend less on. It's easy to lose track of your spending habits and end up forking out more on certain things than you think we are, particularly if bill contracts end and renew at a higher cost, or if that monthly takeout becomes fortnightly. You can create a spreadsheet, keep a notebook or even just download a smartphone app like Emma, Bean or Money Manager to make tracking your spending on-the-go easy.
2. Start implementing short-term changes
Once you've identified areas you could cut down on, start implementing them. For instance, on your food shop, switch to basic brands where you can, think about whether you need all that data on your mobile plan, or cancel any subscriptions that have renewed after a trial and are non-essential. Many bank accounts also allow you to round up payments to the nearest pound, allowing you to siphon off small savings regularly that you can use to pay back your debt.
3. Seek financial advice
It's always helpful to get a second opinion, especially from an expert. They may be able to recommend credit repayment programs or other steps you can take that you may not be aware of. There are both public and privately funded organisations that you can turn to when you are in crisis, one of which is the National Debt Line.
4. Consider your assets
You might be sitting on a goldmine which can help you pay back your debt. For instance, use eBay to sell unused items, or if your car is expensive to run, consider selling it for a more economical model. There's nothing to stop you buying the same model again in the future when you're in a more stable position; the key is to take steps in the here and now to help you get to that brighter future again.
5. Don't do it alone
If you are feeling overwhelmed by anxiety or guilt about the money you owe, it's important to seek help. Try to share how you are feeling with friends and family or call a confidential helpline, such as the one provided by the National Debt Line. Over eight million people in the UK are experiencing financial difficulties – it's important to keep this in mind and not let yourself become overwhelmed by feelings of despair or hopelessness. Coming at this from a positive, supported place will help you feel motivated to tackle your debt.
For more information about debt consolidation loans, speak to us today.
Our team is on hand to help with number of questions you may have.
If you are struggling with debt, please visit Money Advice Service for help and advice.
We are a broker, not a lender.