Ideas of how to manage your credit card spending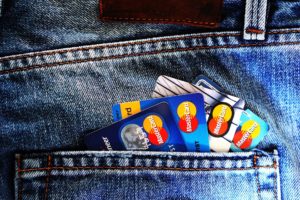 Did you know that each day during September 2012 more than 27.2 million card transactions were made? This equates to a total of £336 million. It's worth noting that, reported within the same year, between July and September, around 1399 people were made redundant each day.
Credit card spending can mean that thousands of people could have unfortunately potentially defaulted on their credit card payment because they were faced with redundancy.  UK building societies and banks wrote off £473 million in credit card debt over the third quarter of that year.
Take precautionary steps to credit card debt
The obvious advice is not to allow credit card debt to mount up. If you can, cut up the card and cancel it. If you feel you need to lean on a credit card, then there are ways to try to control your level of spending and avoid debt.
If Christmas is a time you feel you need to treat family and friends, then it's worth considering going to the New Year sales or steadily shopping for presents each month throughout the year, especially during seasonal sales. You could budget a certain amount each month towards buying clothing, Christmas cards, Christmas decorations and large items so you can breakdown the costs so you are comfortable in paying off the credit card statement within the monthly deadline. Aim not to have to pay any interest charges.
Consider a pre-paid card option to manage your credit card spending
Did you know you could upload a credit card, so it's all pre-paid, rather than take credit and pay after? Some cards have restrictions where you can't spend any more than the amount uploaded on the card. This will make sure that you never overspend. You could even enter into the following month with money left over from this month! You can even not add any money to this card if that particular month is tight and helps you to focus on only buying essentials so you don't overspend that month.
If you get on a roll with this method, it could mean that you can start to make regular savings rather than spending. You could then consider uploading an interest-paying savings account, rather than a pre-paid credit card. Your savings will earn a bit of interest – and could make you money. It's always a good idea to try to put aside some extra money into a savings account for any unforeseen emergency spending on your home or car, etc.
Consider a balance transfer or interest-free option to help manage credit card spending 
It used to be very tricky to find a balance transfer offer for your credit card debt, but it seems to be a lot easier now.  It seems that people with good credit could be eligible for zero percent balance transfer deals.
You could be offered a short term, interest-free period with a low balance transfer fee or a zero percent balance transfer of up to two years, if you can pay for a higher balance transfer fee.
What we're also seeing more low-interest introductory periods being offered.
Be careful with credit card statements
It's predicted by credit card companies that some cardholders will not repay their balances before the interest-free period expires. Therefore, it's advisable to get balances to zero as quickly as possible. If you still have money owed at the end of an interest-free period, then consider transferring it to another zero-interest balance transfer card.
Never miss a minimum payment because it means you may not qualify for an interest-free deal. It's worth setting-up a direct debit for payments before each due date in order to prevent paying any interest rates.
Following this method, people can keep their credit ratings high and the opportunity to keep qualifying for the best deals. Just to remind you that credit cards should only be used when absolutely needed and not use as an excuse to overspend each month on luxury items, etc. Try to repay the balance of the card as soon as possible, don't delay.
Our team is on hand to help with number of questions you may have.
If you are struggling with debt, please visit Money Advice Service for help and advice.
We are a broker, not a lender.