Here is How to Save for Summer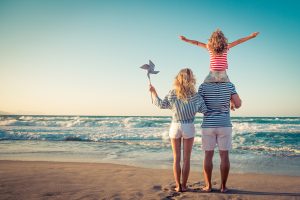 Christmas is but a distant memory, and that means countless people across the UK will be excitedly counting down to the next significant date in their calendar…
Summer holiday time!
There's nothing quite like a week or two away from it all, but heading abroad for a much-needed holiday has become increasingly expensive.
Even with airfares remaining sensibly-priced for most family-friendly destinations, spending money, parking fees, insurance and the myriad of other holiday-related costs soon mount up.
Fear not, for there's still plenty of time to save for your summer holiday, and we've got some brilliant ways to ensure you have plenty of money in the pot for an unforgettable time away.
1) Open a holiday savings account
This might sound a little over the top, but by opening a separate savings account for your holidays, you'll have a dedicated pot into which you can save some of your disposable income.
This won't result in you instantly having more cash, obviously, but it will provide you with a focus for your savings and ensure those vital funds aren't swallowed up by day-to-day activities.
Most bank accounts will let you open additional savings accounts for no cost (you may have to pop some funds in immediately, mind), and if you hide away the accompanying card, you'll have no inclination to withdraw the money until your holiday arrives.
2) Spend less each month
Sometimes, the simplest money saving techniques are the best, and this is about as simple as it comes. How to save? Spend less.
If you don't already, create a monthly budget. Add up your regular outgoings – everything from the coffee you buy each morning to the clothes shop that's a regular feature halfway through the month.
Once all of your expenditure is listed, take a look at where you can make cuts. Regular meals out, coffees, big food shops that inevitably result in waste; there will be more areas than you might think in which you can make savings.
It won't always be easy, but the more you cut back each month now, the more you can enjoy your summer holiday when it arrives.
3) Fire-up a side venture
We live in an age now where more and more people are striking up side ventures alongside their regular jobs in order to broaden their career opportunities and make a bit of extra cash.
For you, that could simply be emptying your old wardrobe to make some sales on eBay. Or, you might have a hobby that could be turned into a money-making venture such as design, writing or photography.
There's a wealth of options for people who want to earn a little extra in the digital age. Take a look at PeoplePerHour and TaskRabbit for inspiration.
4) Make credit cards work for you
There's nothing wrong with credit cards, providing you spend within your means and pay off the balance each month to avoid interest charges.
What's more, some of the best credit cards will help you earn money!
Look for cards that offer handsome cashback, and those which will earn you air miles. With so many credit card providers on the market, they're all battling for your attention, which means there's plenty of good deals to be had. MoneySavingExpert remains a great source of information on the best credit card deals.
Wrapping up
Saving for a holiday shouldn't be viewed as a chore; enjoy it! Every time you skip an expensive lunch or decide to walk rather than drive to work, just remember that every penny saved will eventually be put to very good use while you're relaxing in that far-flung location…
Our team is on hand to help with number of questions you may have.
If you are struggling with debt, please visit Money Advice Service for help and advice.
We are a broker, not a lender.