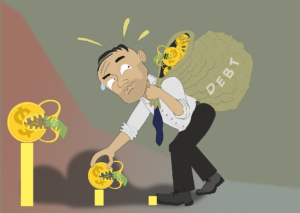 Debt consolidation loans advice from gov.uk website, ran by the UK government, has lots of help about managing and seeking ways to get on top of debt.
It's good advice and if you feel overcome by debt, then it's a good website to head towards. It's worth approaching existing creditors to ask for a new payment arrangement, if you are struggling. This may sort things out there and then. You can also ask relatives for a temporary loan.
If you do look at the Directgov website, it could help to eliminate debt and hopefully help to prevent you from falling into debt again in the future.
Other options like store cards, credit cards, personal loans, overdraft facilities, mortgage extensions should all be considered as well, if a short-term temporary solution is needed.
There could be a solution, rather than a loan, which the CCCS and National Debtline may recommend if you call them for free debt consolidation help. It's always recommended to seek independent advice from organisations like this, when considering all options.
It's worth shopping around to find a reputable consolidated loan company who offers you the best interest rate and period of payment terms, if a loan is the only option. Otherwise, it's worth considering approaching a bank or building society to discuss a lower rate of interest loan that will not affect your credit score.
A long period of payback via a debt consolidation loan is often better value than short-term borrowing because the rates are generally lower and therefore decreases monthly payments.
If you take a debt consolidation loan, then you only have to pay one single payment each month, not lots of different amounts to each creditor. There's a period of time, so you know in, for example, two years, the whole loan would be paid off and it will free-up that monthly payment for other things in the future.
If you can take control of all your monthly debt payments, it will often stop you from falling behind on payments where you can then ultimately end up with bad credit rating. However, you'll find that Direct gov does warn that it also has potential problems. If you secure your debt consolidation loan against your home, then that asset is at risk, if your payments aren't made each month, as agreed.
There are additional costs, like repayment charges and setting-up costs. Overall, you can end up paying more money because of this extended period of repayment time.
If you are a bad credit consumer, you may only actually be able to get a high interest rage or secured funding. It's difficult to negotiate with just one loan provider if a problem does arise in making the repayments.
If you still have debts while you are paying off this loan, then some people can struggle to pay the two together. So it's worth looking at all the best options for you and following the guidelines if you decide on a debt consolidation loan.
If you can't afford a debt consolidation loan payment each month, then you could find yourself in a much more difficult financial situation, so it's really important to shop around and get as much debt consolidation help as possible.
If you commit to paying a debt consolidation loan off each month, then you must keep tight control over your finances and be aware of any costs or penalties if you make a late payment or miss a payment or even if there are any early repayment fees.
You can get yourself back on track financially and eventually reach a debt-free life – but you must make a massive effort to repay the loan within the time you've allocated to it and all the terms you've agreed to.
Our team is on hand to help with number of questions you may have.
If you are struggling with debt, please visit Money Advice Service for help and advice.
We are a broker, not a lender.