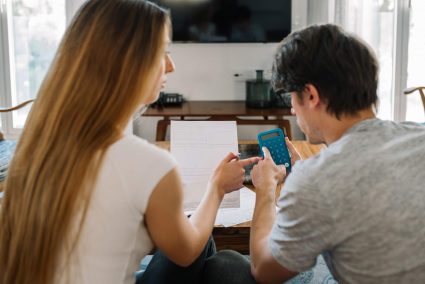 Joint Debt Consolidation Loans
If you're part of a couple, you'll no doubt understand how debt can put a strain on your relationship. Money worries are often cited as one of the major causes of relationship breakdowns – particularly if one party feels the other bears more responsibility for their joint financial situation.
However, it's important not to let the stress of debt affect your relationship. After all, there are ways in which couples can deal with debt and reduce their monthly spending on repayments, in the form of joint debt consolidation loans.
When to consider a joint debt consolidation loan
Joint debt consolidation loans are a great way to relieve financial pressures in a relationship. The way they work is quite simple – as a couple, you apply for a joint consolidation loan, which is used to pay off your existing creditors. From here on in, you'll only need to make one affordable monthly repayment which is lower than your existing spending on debt.
This way, you can get your finances back on track, which will almost certainly make your personal relationship less stressful.
Could a joint application increase our chances of getting finance?
It's true that, in some circumstances, applying jointly for a loan could improve your chances of being approved for credit. There are lots of firms offering attractive deals on joint debt consolidation loans. However, there are some instances when a joint loan may not be a great idea.
As a couple, if one of you has a poor credit rating while the other doesn't, you should avoid applying for joint debt consolidation loans. If you have a joint debt with someone, your credit file is inextricably linked with theirs. This means that if your credit rating is perfect, but your partner's rating isn't, your credit rating could be adversely affected in the application process.
In this instance, it's better to apply for debt consolidation loans as a single entity. This way, you'll retain your good credit score while being able to deal with joint debt currently faced by you and your partner.
For further advice on debt consolidation loans, why not contact us today? A member of our friendly and experienced team will be ready and waiting to help.
Our team is on hand to help with number of questions you may have.
If you are struggling with debt, please visit Money Advice Service for help and advice.
We are a broker, not a lender.