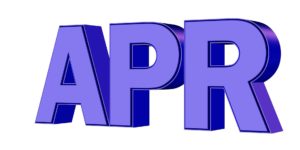 The purpose of APR (Annual Percentage Rate of charge) is to make it easier for the consumer to compare deals like for like and it is used on lending such as loans, credit cards and mortgages.  Introduced by the Consumer Credit Act 1974, it shows the total cost of borrowing over the period of a year and, as well as interest, the figure includes upfront fees and charges. The APR calculation itself is complex and even those who understand the mathematics of finance sometimes struggle with it.
When comparing debt consolidation loans or any form of credit, you should not rely on the APR alone, unless the loan term and amount are exactly the same – APR is dependent on the time period for which the loan is calculated, so the APR for a loan with a 20-year term cannot be compared to the APR for a loan with a 15-year term.
Choosing an APR
However, when choosing a loan, the APR can be useful information to take into account alongside the monthly repayment, the total amount which will be paid back, and the length of the loan.
Before the borrower signs the credit agreement, the lender must tell them the APR they are being charged, which may be different from the advertised rate, or representative APR.  The rate offered to each individual is dependent on a number of factors, and some people may be refused credit altogether.
Debt Consolidation Loans are a UK based Debt Consolidation Loans Broker, We can help with any form of Debt Consolidation you may need.