Death of cash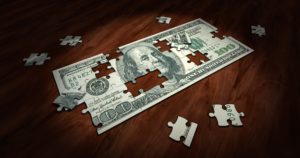 When the contactless payment limit was raised from £20 to £30 on 1st September 2015, some heralded it as the true start of the race towards a cashless society, which they think will arrive within the next 10 years. Actually, people have been predicting the death of cash for more than 50 years, but it is still with us.
Cash does, after all, have advantages over its electronic rivals – it is convenient, reliable, widely accepted and, perhaps most importantly, anonymous. With all the new payment methods – cards, mobiles, smart watches, wireless wrist bands, facial recognition technology – the money can be traced back to the sender.
Cash also holds a peculiar place in people's affections, as demonstrated by the outcry when coins and notes are changed or taken out of circulation.
People are fond of their notes and coins and interested in the different look of cash from other countries.
They also tend to see it as more real than electronic money, so using cash only – say on a night out – can be an effective method of budgeting.
Small gifts and tips are more welcome in cash.
But there are already places where cash is not accepted at all – the London bus network, for instance, has been cash-free since 2014. In the Netherlands, there are 1,400 supermarkets that do not accept cash at all.
Is the death of cash imminent? Will the electronic alternatives take over completely as they become more sophisticated? Or will we decide to opt for a combination of the two – some sort of physical cash incorporating digital security features?
Cash has been in our society for thousands of years – it is unlikely to disappear without a fight and we will probably hold onto it for as long as we can.
Debt Consolidation Loans are a UK based Debt Consolidation Loans Broker, We can help with any form of Debt Consolidation you may need.